These gift bags filled with Nature's Body Beautiful products are the perfect way to reward your employees and customers. They make delightful gifts for your friends and family members. And while you're at it, go ahead and grab one for yourself… you deserve the best! Choose from one of the Gift Bags below, or call us with your custom order.
All Orders are Processed by P & P Enterprises
No animal testing and No animal products are used in our cosmeceuticals!
MAY SPECIALS
FREE SHIPPING* + REFUNDS**
ALL 'LIVING CLAY' PRODUCTS
*'U.S.' Orders of $40 or more
INTERNATIONAL ORDERS-Shipping Discount @ Checkout
$40-99.95 orders - 5% Refund

$100-199.95 orders - 10% Refund
$200-299.95 orders - 15% Refund
$300+ orders - 20% Refund
**Refund Issued when I process order
..
Introduce your friends to Calcium Bentonite Clay with the
STARTER KIT
A VALUE OF $59.95 - NOW ONLY $39.95


STARTER KIT Includes:
1 - 4 oz Cleansing Clay Mask
1 - 8 oz Detox Clay Powder
1 - Living Clay Book
1 - Travel Bar Handmade Soap
1 - Sample Size Rejuvenation Face Cream
1 - Sample Size Body Cream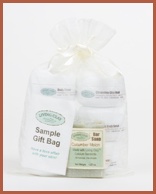 The Sample Gift Bag
Want to try it all? Here's a little bit of everything! This beautiful gift bag contains .5 ounce samples of the following: Cleansing Clay Mask, Face and Body Scrub, Body Cream, Muscle Rub, Rejuvenation Face Cream, Wrinkle Release Cream, and Travel Size Bar Soap. All this for only $19.95!
Sample Gift Bag - $19.95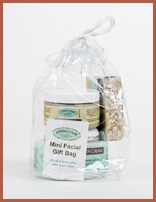 The Mini Facial Gift Bag
Give the gift of gorgeous skin! This beautiful gift bag contains a 4 ounce jar of Cleansing Clay Mask, an 8 ounce jar of Body Cream, and a luxurious handmade Bar Soap. Makes a great wedding gift, or a lovely gift for bridesmaids! Actual Retail Value: $49.85, but you pay only $39.95!
Mini Facial Gift Bag - $39.95

.

U.S. Shipping & Handling Prices
Total Order Amount
Shipping & Handling
$0-39.99
$10.00
$40 - 99.99
free
$100 - 199.99
free
$200 - 299.99
free
$300 - 399.99
free
$400 +
Email me for
shipping estimate
Due to the constant fluctuation in shipping fees, please take notice. If you are overcharged by $5 (or more) on your shipping fees we will issue you a credit on your account and notify you. You may then request a check or additional product for same amount on your next order.
Also, if the shipping fees charged is $10 (or more) less than the actual shipping fees, we will contact you .
It is not my intention to make money on shipping, nor to lose any. Thanks for your cooperation.
ALSO: If you want your order shipped to different address in the U.S., simply email me after you order with shipping information. You will receive a confirmation of order and shipping info.
Please visit AboutClay.com for more information on Bentonite Clay and its uses